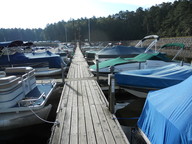 1. It is the person's responsibility to update contact information including email and phone.

2. We will only put boats in appropriate size slips. We will not put a 20' boat in a 28' slip or a 24' boat in a 36' slip.

3. You will have 72 hours after we contact you to reply to us.

4. Slips will only be assigned to the person on the list and the boat must be owned by the person on the list.

5. You cannot switch list. If you are on the 20' list and want to go on the 24' list you will be dropped from the 20' and then added to the 24' using the date you asked to be switched.

6. To be added to the list stop into the office, fill out form and leave $50 cash deposit.


---